creating champion companions
Testimonials
"My pup Daisy is a great addition to the family both as a family dog and hunting partner. She has excellent natural instincts for hunting pheasants. I am excited to see her progress further in years to come.
I took her out multiple times in our CRP over the summer and I was the one blazing the trail for the both of us. After we started finding roosters early fall, she has been the one showing me where to go and she has made it a very successful hunting season. Thanks for the good times we have enjoyed together."
Dave E, Sioux Falls
"I bought a pup from my cousin near Adams, Nebraska that had is dam (Libby) bred to Duke. I have one of the two males. He looks almost identical to Duke and has been a wonder to train. He picks up very quickly on things, and loves to play the game. I use him mostly for duck hunting but we have been pheasant hunting probably 5 times or so this year and he has pointed once. Every other time though he may as well be pointing because he gets so birdy and right next to the bird you just know one is coming out. He has the best nose I have ever seen on a lab. Anyway I just wanted to thank you and let you know I will keep an eye on your kennel. You do things right." M.B.

"Bryon and Dawn, Just wanted to drop you a note about our puppy. We have the yellow collared female and we named her Tess. We are so very pleased with her. She is so alert and engaged and a people loving dog. She loves to retrieve already and comes to a whistle. Thanks so much!" PG


"Our female pup, Dakota, is now almost 8 months old. She just completed 18 weeks of obedience training. I am very impressed with her intelligence. Her instructor has commented that she is the smartest one in the class of 7. She seems to pick up new training very quickly and I am learning a lot too. I hope to have her take her Canine Good Citizen test within 3 months.
I also appreciate you taking my numerous phone calls and giving me tips on training. I was able to get Dakota in the field this fall, and she had some great retrieves. She is a great family dog and loves to cuddle. I am surprised at her calm demeanor, even with my older Springer in the house." Dave P, New Brighton, MN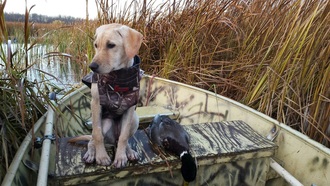 Our pup loves the outdoors and is turning out to be a great water retriever. She learns the commands quickly and is so eager to please. She is also a wonderful family pet. - Paul. Deerwood, MN.
---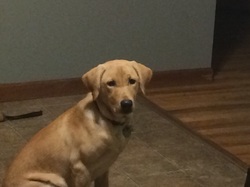 "Just wanted to let you know I took our yellow pup out pheasant hunting Sunday for the first time. We named her Pacer. She did fantastic for first day out. Found some birds all on her own. We were hunting with two english pointers and she did a great job. She has been one of the easiest to train dogs I have ever had. Very wanting to please and loving. She's been fantastic and our daughter loves her." Eric - Spokane Valley, WA
---